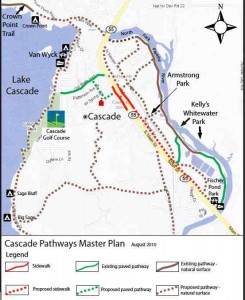 A number of community groups in Cascade, including Valley County Pathways, worked together with the City of Cascade to develop a new Pathways Master Plan for the community.
"The completion of the Cascade Pathways Master Plan is a significant step forward for VC Pathways and pathway advocates because now all of the key governmental entities in the area — the cities of Donnelly, McCall and Cascade, and Valley County — have charted their vision for pathway development in their communities," said Andy Olavarria, VC Pathways president.
"A pathways master plan for each community is crucial so we can plan new pathway segments as new opportunities and funding arises. Ultimately, we envision a valley-wide connected pathway system, and these plans lay the groundwork for this to occur."
The city of Cascade, Kelly's Whitewater Park and Valley County Pathways already are moving forward with the development of The Strand, a 12-foot pathway that extends for 2.25 miles along the Payette River from Water's Edge RV Park to Fisher Pond Park, including pathways in and around Kelly's Whitewater Park. A grand opening will be held this spring.
Dwight Jividen, VC Pathways board member in Cascade, led the effort to create the Cascade Pathways Master Plan. He's working with the Cascade Planning & Zoning Department to incorporate the master plan into the city's comprehensive plan.
In building the plan, Jividen obtained feedback and concurrence from Lake Cascade State Park, Kelly's Whitewater Park, Cascade city officials and the city of Cascade, Valley County, the Idaho Transportation Department, and others.
Steve Stuebner , VC Pathways vice president, did the graphic design work on the map, working closely with Dwight on the details.