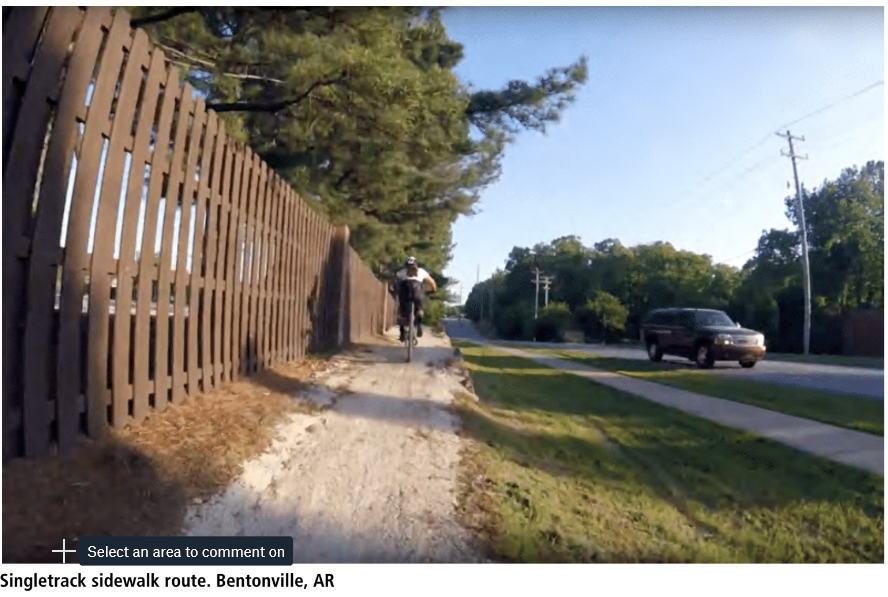 Hi all,
The West Central Mountains Economic Development Council and Valley County Pathways have been working together with the International Mountain Biking Association (IMBA) on a feasibility study about the potential for "singletrack sidewalks" and other types of pathways in the Long Valley area between Cascade and McCall, with an eye toward connecting to New Meadows and the Weiser River Trail as well.
This has been a year-long study, funded with a grant from the Mountain Central Association of Realtors in McCall and the National Association of Realtors. We are excited to share the results!
IMBA recommends 70+ miles of singletrack sidewalks in the feasibility study, along with a variety of on-road bike lanes, detached bike paths, rail-trails and more.
Steve Stuebner of Valley County Pathways and Andrew Mentzer of the West Central Mountains Economic Development Council will be sharing the results of the study in the coming weeks with elected officials, county commissioners, city councils, chambers of commerce and more. See dates below. The public is welcome to attend these sessions.
Overall, the IMBA study validated the vision and scope of the 2018 VCP Master Plan, which seeks to connect the communities of Cascade, Donnelly, Lake Fork, and McCall in Long Valley with a system of pedestrian pathways. The vision is also to provide pathway connections to popular recreational and cultural destinations in the valley such as Jug Mountain Ranch, Tamarack Resort, Gold Fork Hot Springs, the historical burg of Roseberry, Ponderosa State Park, Lake Cascade State Park and Forest Service trailheads.
"We're stoked to share the results of the study because it validates the vision of the VCP Master Plan, and it gives us a path forward looking at a number of options for building future pathways to fulfill our vision," Stuebner said.
"We are looking forward to getting community feedback on the IMBA study and identifying priorities at the grass-roots, community level  with elected officials, community leaders and the general public," added Mentzer.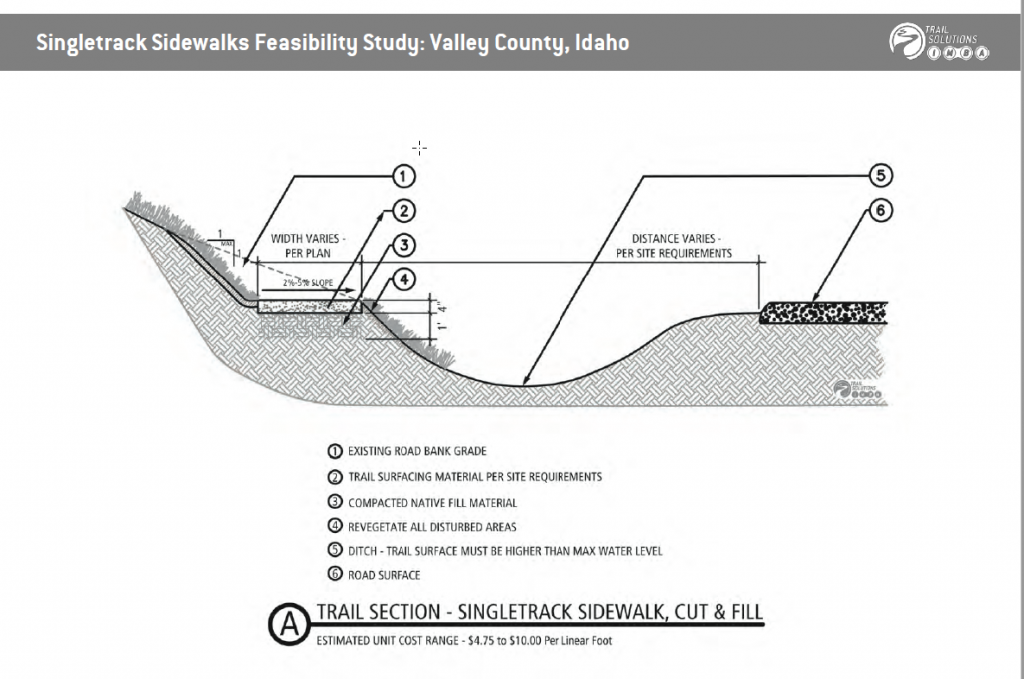 What is a singletrack sidewalk?
Singletrack sidewalks are dirt paths about 2-3 feet wide that would parallel existing county roads. The trails would be built within the existing county right of ways. Trail difficulty would be beginner to intermediate. The purpose would be to create a safe place for walkers, runners and cyclists to travel along existing county roads separate from the county road itself.
The trails would be less expensive to build and maintain as a paved, detached bike path such as the Strand in Cascade, McCall city pathways, and the paved trail going through the Meadows area between Donnelly and Tamarack.
The IMBA study pegs the cost of singletrack sidewalks to be in the range of $1.85 – $3.75 million to build-out the vision of the feasibility study (70+ miles of pathways). This breaks down to a cost of $25,000-$53,000 per mile.
By comparison, detached, paved bike paths 8 feet wide cost approximately $100,000-$250,000 per mile, including design and engineering.
In a series of community meetings coming up in late April and May, we will be sharing the study results to get a sense of priorities for singletrack sidewalks and pathways near each community and beyond.
Our meetings planned so far include:
Tuesday, April 30, 10 a.m. – Valley County Commissioners, Valley County Road Department, Lake Cascade State Park and Bureau of Reclamation officials at the commissioners meeting room in Cascade.
Tuesday, May 7, Cascade Mobility Group, 1:15 p.m. in Cascade at the Cascade Cultural Arts Center, 106 E Pine St.
Thursday, May 9, 7:30 a.m., McCall Chamber of Commerce, Shore Lodge.
Thursday, May 9, 5:30 p.m., McCall City Council.
Monday, May 20, 5 p.m., New Meadows City Council.
If you have a group that would like to discuss the IMBA study, please let us know (see follow-up contact information below).
Public link to the 35-page IMBA study. Please understand that all of the recommendations in the study are very preliminary.
Top recommendations for each community:
Farm to Market Road
West Mountain Road
Norwood Road
Davis Creek Road
Gold Fork Road
Heinrich Lane
Lakeshore Drive
Smylie Lane
Tamarack Falls Road
Lake Fork Road
For more information, contact Steve Stuebner, 208-484-0295, [email protected], or Andrew Mentzer, 208-703-0161, [email protected].