Those of us with Valley County Pathways have always dreamed that we could build a pathway network that matched the grandeur of the scenery in Long Valley, between Cascade and McCall.
Help us connect our communities with pathways that wind through our favorite places. Help us provide a conduit for our residents and visitors to enjoy an outdoor outing for fitness and recreation, or perhaps a pleasant commute to work, shop or dine out. Help us enjoy our pathways together as one community.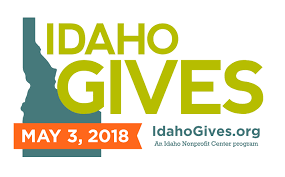 You can help us realize that goal by giving to Valley County Pathways as part of Idaho Gives. We are a bonafide nonprofit organization, and we'd appreciate your support!
We are suggesting contributions of $10, $25 and $100 for Idaho Gives.
The money will go toward our $800/year liability insurance policy, trail planning studies, new trail construction, trailhead kiosks, maps, signage and more.
We are working together with the West Central Mountains Economic Development Council,  Mountain Central Association of Realtors and the International Mountain Biking Association (IMBA) on a singletrack feasibility study this spring/summer on our key pathway corridors between McCall and Cascade. If some of the routes are feasible, we want to move swiftly into trail development!
We've been busy!
Valley County Pathway's key milestones include:
Widening bike lanes on Warren Wagon Road as part of Federal Highways Administration plans to repave a 5.5-mile section of the road in 2018 and 2019. McCall area citizens rallied to public meetings and made their voices heard on the bike lane issue.
Extension of the Crown Point Trail by ¼ mile in each direction through a donation of real property from the Putman Family to Valley County Pathways.
Creation of the North Valley Trail from River Ranch to Heinrich Lane via property donations and easements. The trail has been operational since 2007 and new pieces and improvements have been added since that time.
Creation of the Strand in Cascade, a 2-mile trail that runs along the North Fork of the Payette River from the south bridge to the Water's Edge RV park.
Creation of the Boulder Creek Trail in Donnelly through the donation of property by Hugh and Georgia Ann Fulton and a substantial grant from the Boise National Forest Resource Advisory Council (RAC). The trail opened in 2012.
Linking up groomed cross-country ski trails from the Activity Barn to the North Valley Trail for xc skiing, snowshoeing and fat biking, working with Brundage Mountain Resort.
Creating a new pathways master plan that was approved in 2017 by Valley County Planning & Zoning and the Valley County Commisisoners. The plan includes a master plan map, outlining existing and proposed pathway corridors along with xc ski trails, water trails and key public trailheads in Valley County and Adams County.
Improved highway signage pointing out pathway trailheads to motorists and tourists visiting the valley.
Milestones accomplished by our partner organizations:
• Substantial update of the McCall Area Pathways Master Plan in 2012.
• Creation of the Donnelly Pathways Master Plan in 2014 with an emphasis on creating pathway corridors that tie together between Donnelly and Lake Cascade.
• Creation of the Cascade Bike and Pedestrian Plan in 2015.• Development of a new, detached pedestrian pathway from the City of McCall to Bear Basin Road (summer use only at this time).
Let's work together to develop a world-class pathway system in Valley County! Please tell your friends!
Many thanks!
– Steve Stuebner with Valley County Pathways