Valley County Pathways needs a wide range of volunteers to help with the Town to Beach Flyway project in Donnelly during the week of Oct. 16 and on the weekend of Oct. 20-21.
We need people to help with grubbing the trail corridor with rakes and hand-tools; we need pickup trucks and dump-trailers for hauling wood and brush to a central dumping area on site, and we need dump trucks for hauling road mix to the trail site from pit run location in Donnelly.
If you'd like to help out, please contact VCP board members Brett Shepherd [email protected] or [email protected].
The Town to Beach Flyway is a pathways project to tie downtown Donnelly to its city park/beach. It will be a 1.3-mile walking/biking trail that will run from downtown Donnelly along West Roseberry to a forested area adjacent to the McCall Airfield to the city beach off of Dawn Drive.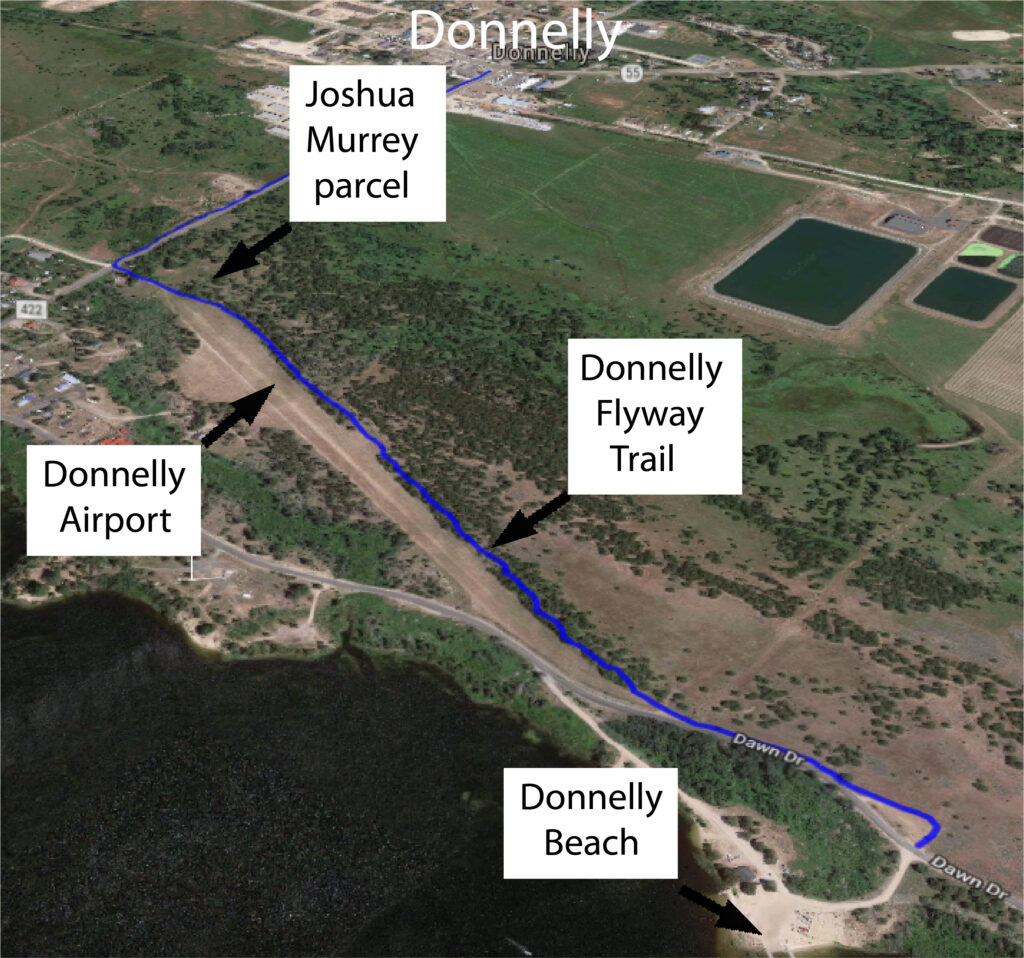 Adjacent landowner Josh Murrey, a professional excavation contractor, is donating his services to VCP by helping us grub the trail-corridor, building the trail, and compacting the top of the trail with roadmix to harden the trail surface.
The Town to Beach Flyway is a true partnership project involving multiple entities, including the City of Donnelly, which owns the property where the trail will be located along the eastern boundary, Josh Murrey, adjacent landowner and volunteer trail contractor, Valley County, and the Biltmore Company, another adjacent landowner.
Timeline: Construction began this summer to grub the site and clear tons of dead and dying wood from the trail corridor. This work is still under way. We are hoping to cut in the trail this fall, and finish the project next spring.
We recently received a $1,500 grant for the project from the Stibnite Foundation. In addition, we have received over $11,000 from the City of Donnelly for the Flyway project, direct donations for the project, and we're receiving highly valuable in-kind services from adjacent landowner Josh Murrey. He owns an excavation business, and he's been super helpful working with us on this project every step of the way.
We've also received a super valuable in-kind donation from the Valley County Road Department and the Valley County Commissioners for 900 cubic yards of roadmix. The roadmix will be used to cap the top 4" of the trail, and then it will be rolled, watered and compacted, for a hardened surface.
The funds for this project will be needed to purchase trail signage that will be placed at trailheads and along the trail, new fencing at the trailheads on the north and south ends of the property, and for a step-over feature to prevent motorized vehicles from using the trail. 
Here's a video about the project.
Again, please let us know if you'd like to help us get this project across the finish line! Thank you!