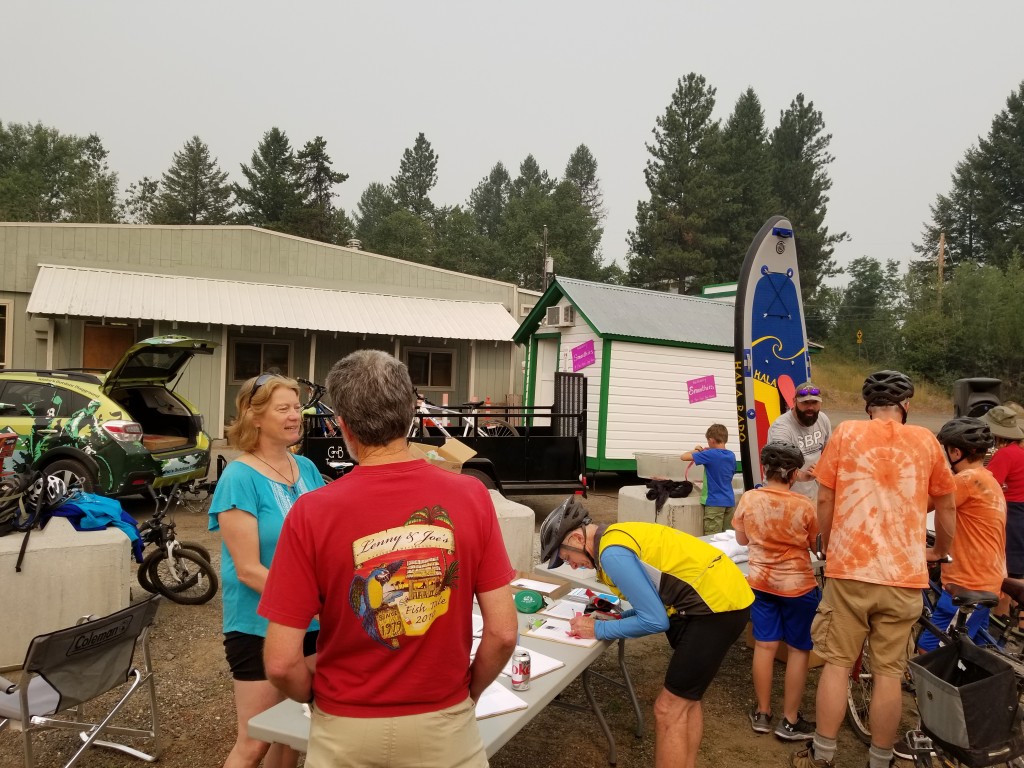 Hi all,
We had a successful event on Saturday, Aug. 5th even though we awoke to dark, smoky skies in McCall. We appreciate everyone who participated, and also everyone who volunteered for the event and our event sponsors and co-sponsors.
First, a big thank you to St. Lukes-McCall and McCall Parks & Recreation for co-sponsoring the event. Lyle Nelson and Kurt Wolf were instrumental in planning the event, and Erin Roper put a polished touch on our event poster.
Thanks to Midas Gold for sponsoring the Harlow's bus shuttle, and to Idaho First Bank for sponsoring the McCall Party Rentals Bounce House. Our bus driver, Christy, donated her time after working the event. She did a great job! We also want to thank Albertson's in McCall for donating food and water bottles.
We had awesome volunteers at our aid stations along the 5-mile course on the North Valley Trail and McCall City Pathways. Thank you to our aid station volunteers!
At Mile 1, McCall Parks & Recreation.
At Mile 2, Melanie Holmes of Remax Realty and Sherry Maupin of Idaho First Bank volunteered at the River Ranch location. Both of these professional women are very busy and stretched to the limit, but they still came out to support pathways.
At Mile 3,  Michele Crester, manager of the McCall Activity Barn, regaled participants as they passed by the tubing hill, which is a beautiful tall-grass pasture for cattle in the summertime.
At Mile 5, Brett Shepherd from Tamarack Resort and Cindy Lee greeted folks as they disembarked the bus shuttle and started their journey into McCall.
This was a fund-raising event, and we made most of the funds from quality items donated for our raffle.
A big thank you to all of the businesses that donated items for the raffle:
Hala Hoss SUP $1,100.00 value, donated by River Gear, a paddle and bike shop in Cascade, owned by Damon Yerkes, a long-time VCP board member and treasurer
YETI cooler, $199 value from May Hardware
Cheap Thrills ½ day Wave-Runner rental $175 value
Four passes to open skating at Manchester Ice Center
Two gift certificates for three movie rentals at Sunset Video
Two ½-day SUP rental from McCall Sports Exchange
Two $25 G.C.'s to McCall Jewelry
Lift tickets to Tamarack Resort
Ski tune and lesson packages from Kurt Wolf
Full-day mountain bike rental from Gravity Sports
We also want to thank Hometown Sports for bicycle maintenance support at the event.
Volunteers who worked the Start/Finish area included Wendy Wilson, Kurt Wolf, Lyle Nelson, Steve Stuebner, Andrew Mentzer, Genny Mentzerske, and we had a great D.J., Dayna Kunkel, who played upbeat music all morning.
It will take a broad-based community-wide effort to build a valley-wide pathways system in Valley County! The same kind of community spirit that prevailed during our event will give us strength to move ahead!
Best, Steve Stuebner
Valley County Pathways