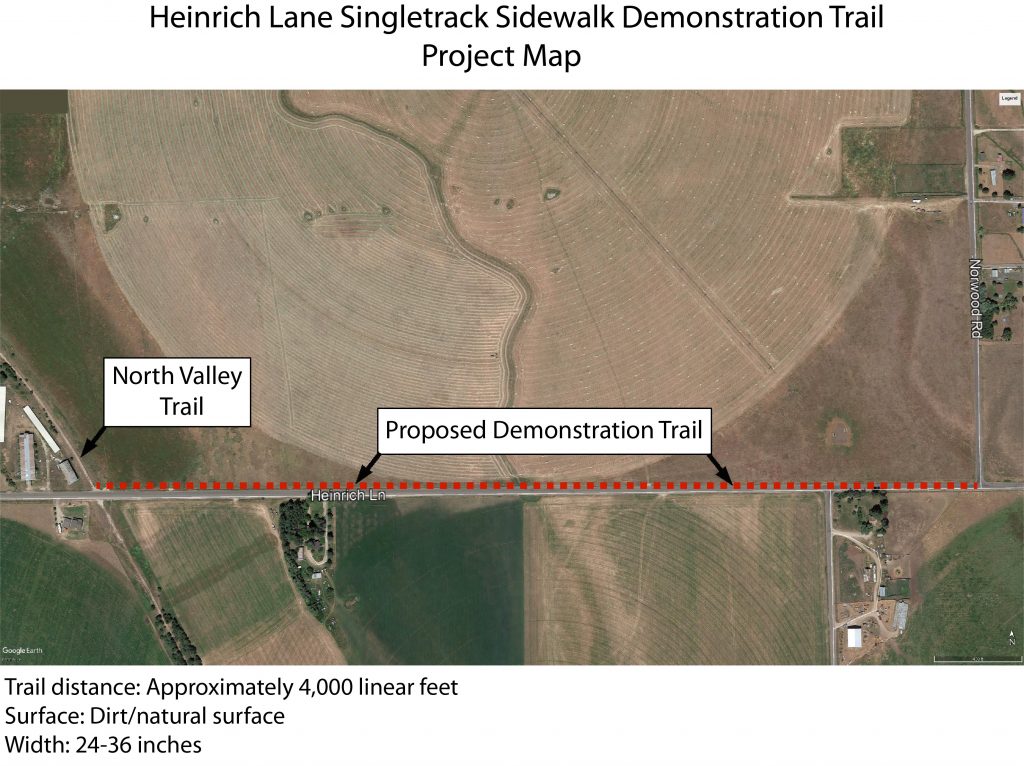 Hi all,
Valley County Pathways is proposing to build a 4,000-foot demonstration trail along the north side of Heinrich Lane in the county right of way corridor, from the southern trailhead of the North Valley Trail to the junction of Norwood Road and Heinrich Lane.
Under the guidelines set forth in the Valley County Singletrack Sidewalks ordinance, approved earlier this year, we have submitted a written proposal to Valley County Planning & Zoning for the demonstration trail, several maps, and a construction plan.
Valley County P&Z has scheduled a public hearing on our proposal at 2 p.m., Monday, Sept. 28.
Purpose and Need: The purpose of the Heinrich demonstration trail would be to create a singletrack sidewalk demonstration trail at the southern end of the existing North Valley Trail to give trail users a chance to experience a singletrack sidewalk trail on foot or on a bike. We also are open to trying out the trail for horseback riding in this section.
At a bigger-picture level, Valley County Pathways envisions building about 70 miles of singletrack sidewalks throughout Long Valley to connect our communities, from Cascade to McCall, with a link to New Meadows so trail users could connect to the Weiser River Trail. The trails will have recreation, health and fitness, transportation (commuting) and economic benefits to the community.
The demo trail would be a natural surface trail with a width of 24-36 inches. If approved, VCP would work with trail professionals to build a sustainable trail.
Please send a letter of support to Valley Count Planning and Zoning if you'd like to support VCP with this proposal. Thank you!
Steve Stuebner, Board Vice President
Valley County Pathways
[email protected]